EnviroPouch® Pouch Testing Compliance

Enviropak® LLC dba EnviroPouch® maintains annual US FDA establishment registration, #1056276, medical device class II. The US FDA 510(k) Premarket Notification clearance to market EnviroPouch® product is registered as ProPak, #K924118. Think of the 510(k) as the EnviroPouch® "birth certificate;" The 510(k) related to EnviroPouch® information does not change over time, although the product, company, and/or ownership names may change.
---
CONSTRUCTION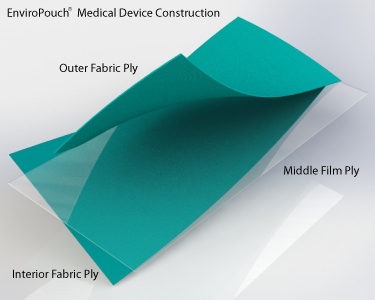 EnviroPouch® is constructed of a multi-layered fabric and film-barrier, US patented design. The US patented film barrier and design of the EnviroPouch® uniquely defines the first and only reusable steam sterilization pouch in the world since 1993 to clinically demonstrate the ability to achieve and maintain sterility to meet CDC guidelines for infection control and to adhere to the US FDA requirements for a medical device class II.
---
CDC Guidelines
CDC Guidelines for Infection Control in Dental Health-Care Settings
EnviroPouch medical device construction is consistent with and meets or exceeds CDC guidelines.
See "Packaging and Preparation" section.
---
EnviroPouch® Instructions for Use