EnviroPouch® Reusable Steam Sterilization Pouches
Note of Thanks...
"Dear Enviropouch® Customers,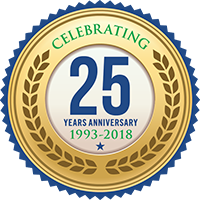 Thank YOU for 25 years of loyal business and our partnership for growth and sustainability! Thanks to your professional collaboration, support and referrals for 25 years, together we continue to grow.
Thanks to your personal commitment to excellence, together we annually make positive progress in infection control professional process time, cost and handling efficiency. We enjoy seeing your practices and colleges thrive, as cost effectiveness and profitability increases. Our earth's sustainability footprint improves by a factor of over 200 times for every unit purchased and utilized!
Your partnership is necessary and greatly appreciated! We look forward to continually earning your business by working together to innovate and to advance professional, business, charitable and sustainability initiatives that enhance the daily lives and future of all of us, together.
Last, thank you for making this US Veteran Owned Small Family Business viable in the US for its Georgia location, manufacturing jobs and US suppliers. We are excited about 2018, our 25th year anniversary, promising to be the best yet, together!"
Respectfully,
Barbara Flury Knight,
President/CEO
Enviropouch® Team
---
The FDA-registered and accreditation-tested EnviroPouch® brand defines the first and only reusable steam sterilization pouch in infection control world history, by its proven efficacy track record and independent formal clinical and field evaluations. Unlike disposable pouches, EnviroPouch® reusable pouches can be used a minimum 200 times, which reduces purchasing costs, saves storage space, reduces excess waste and waste removal costs, minimizes inventory management and lowers sterilization processing costs.
HELP THE ENVIRONMENT. A 3"x8" EnviroPouch® pouch takes up only 3.5 cubic inches of valuable landfill space. An equivalent box of 200 disposable plastic or paper pouches takes up a minimum of 121 cubic inches.
Our reusable steam sterilization pouches are the superior product and infection control solution to disposable autoclave tubing and bags for the cost-conscious, environmentally friendly user.
Reduce waste and costs
Improve the environmental impact by over 200X
Save valuable time, space and money
 
Dentists, doctors, veterinarians, tattoo studios, clean rooms, labs, blood banks and biotech trust and use EnviroPouch® reusable autoclave sterilization pouches.
SUSTAINABILITY driven commitment for over 25 years...Enviropouch!